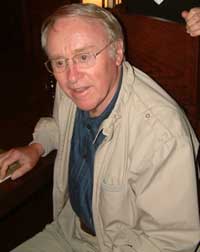 Dr. Hubert G.H. Wilhelm received his Ph.D., which focused on German settlement in Texas Hill Country, from Louisiana State University in Baton Rouge, Louisiana, under renowned cultural geographer, Dr. Fred B. Kniffen. Dr. Wilhelm joined the Department of Geography at Ohio University in Athens, Ohio, during 1963. He continued to teach for more than 30 years at Ohio University, where he is considered the father of the Department of Geography. In addition, he was twice honored as a University Professor for his teaching excellence while at the same time conducting research on North America's built landscape, especially the diffusion of folk buildings (houses and barns), migration and ethnic settlement patterns. His most recent publications include Barns of the Midwest, a cooperative editorial effort with Allen G. Noble, and two chapters in the two volume work, The National Road, edited by Karl Raitz. Dr. Wilhelm's continued enthusiasm and emphasis on material culture – ethnic landscapes, barns, and other forms of vernacular architecture – have inspired many to follow in his footsteps. In fact, he has supervised graduate research for many students who went on to have illustrative careers, mostly in the private sector. He has been a long-time member of PAS: Association for the Preservation of Artifacts and Landscapes, and Dr. Wilhelm is recognized as one of today's foremost experts on Ohio's agricultural landscape.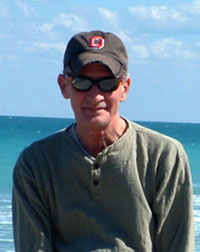 Dr. Artimus Keiffer received his Ph.D. from Kent State University, but his inspiration to observe the landscape came directly from Dr. Wilhelm who supervised Dr. Keiffer's masters thesis entitled, "The Settlement Landscape as Key to Highway Change: U.S. Route 50 between Athens and Coolville, Ohio." In 1996, the two co-authored a chapter on the National Road in Ohio for A Guide to the National Road. In his research dealing with architectural styles, Dr. Keiffer emphasized the importance of technology as a major factor in changing residential house design, and he formulated a typology for classifying house types based on technological variables. Dr. Keiffer edited the Society's journal, Material Culture, from 2002 to 2007, and in 2008, co-edited the journal. In 2008, he completed the second edition of The Geography of Ohio. By the end of his academic career, Dr. Keiffer had taught at Ohio University, University of Akron, Kent State University, Ohio Wesleyan University, Indiana University-Purdue University at Indianapolis, Franklin College, Valparaiso University, and finally at Wittenberg University. Every aspect of Dr. Keiffer's work was inspired by his mentor, Dr. Wilhelm, and he frequently attributed to Dr. Wilhelm a remark that reflects the objectives of the Pioneer America Society: "We need to know where we have been to understand where we are now to set the stage for where we are going in the future."
In honor of the contributions of both Dr. Wilhelm and his protégé, Dr. Keiffer, the Wilhelm family has generously agreed to sponsor the Wilhelm-Keiffer Student Research Award which will provide both undergraduate and graduate students with the opportunity to compete for a research award in the field of material culture studies. This award includes a $250 reimbursement towards conference travel, a reimbursement of the student's conference registration & awards banquet, a one-year PAS: APAL student membership, and an engraved plaque.
The Awards Committee
Edith B. Wallace, Chair | ediewallace@juno.com
Christopher W. Post
Elizabeth Vidon
Students in any field who are working toward an undergraduate or graduate degree in an accredited program, or who have graduated from such a program within one academic year of the submission deadline, are eligible for the Wilhelm-Keiffer Student Research Award.
The applicant will submit a video of her/his presentation made to a class or some other academic setting and 2) a copy of the paper to the committee. The video needs to be posted directly to http://www.YouTube.com. Applicants need to set the YouTube privacy settings to "unlisted" and include the URL of the video with their abstract. No matter whether undergraduate, masters, or doctoral research is submitted, the presentations and papers will be judged on the basis of content, scope, and enthusiasm for the subject of material culture..
A 250-word abstract accompanied by a one-page statement of the student's interest in material culture, broadly defined, must be submitted, in addition to the video and complete paper. The winner will be notified well in advance of the conference and is expected to present the paper at the annual conference with enthusiasm, in keeping with the tradition of Drs. Wilhelm and Keiffer.
Presentations must be 15 minutes in length and both it and the written presentation should demonstrate 1) scholarly merit, 2) quality topic selection and organization, and 3) well-crafted uses of theory, methodology, and field work. Three judges will select the winner. The plaque will be presented at the annual awards banquet.
Interested students should consult the conference overview information for complete conference information.
Submissions for the award should be sent as a Word (.doc/.docx) document as well as a youtube link directly to the Wilhelm-Keiffer Award Committee Chair, Dawn Bowen, via email to: dbowen@umw.edu. Any questions may also be directed to Dr. Bowen. The deadline for submissions is August 28, 2015.
All applicants are encouraged to submit their papers to P.A.S.T. (the Pioneer America Society Transactions conference proceedings); the winning paper should be revised and submitted for publication consideration to Material Culture, the Society's peer-reviewed journal.
On behalf of PAS: The Association for the Preservation of Artifacts and Landscapes, it is our privilege to recognize up and coming students in the study of material culture with the Wilhelm-Keiffer Student Research Award. This award will, hopefully, stimulate interest in a subject that affects all of us in a myriad of untold ways.
Papers must be well written, have a strong thesis, articulate an argument in support of that thesis, and have a strong conclusion.
Papers should also include an appropriate context (i.e., literature review) for the research.
Papers should be no longer than 15 pages, exclusive of figures, that should be referenced in the text.
The style of citation used in the paper does not matter, as long as it is consistent and a "References Cited" page is included.
Recipients of the Hubert G.H. Wilhelm Student Research Award
2013: Sarah Jones Weicksel, University of Chicago, "From Home Front to Battlefield: Clothing and Technology in the American Civil War Era."
2012: Kristin Britanik, University of Maryland, "Where are the Ladies' Rest Rooms? The Evolution of Women-Only Resting Rooms Amid Social Changes of the Early Twentieth Century"
2011: The award was not offered in 2011.
2010: Nina Vollenbroker of the Bartlett School of Architecture, University College, London, England, UK, for her paper entitled, "Rootedness in Mobility — Identity, Space and Spatial Relationship in the Nineteen-Century American West."
2009: No Award Presented.
2008: Amy Potter, Louisiana State University, There's No Place Like Home: Rebuilding Community in the Lower Ninth Ward