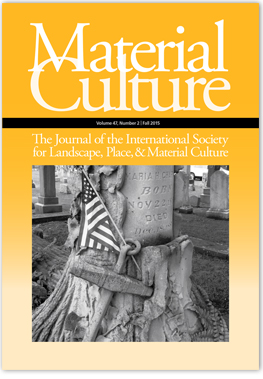 Material Culture is printed two times a year for members of PAS:APAL. You may download a PDF of the table of contents of the current issue here. Fall 2015 Material Culture includes:
Standing Guard: The Chapman Rustic Monument and the "Pioneering Spirit"
Traci I. Langworthy, Department of History, Jamestown Community College
Abstract: Victorian gravestones have long captivated both academic and popular observers for their prominence, ornamentation, and setting in stylized landscapes. One recurring design in late-nineteenth to early-twentieth-century America was that of a broken tree stump, often embellished with rustic emblems of preindustrial traditions, from log cabins and spinning wheels to the hand tools of farmers and tradesmen. As demonstrated by Warren Roberts, Susanne Ridlen and other scholars, these tree-stump monuments (tree stones) reveal far more than a Gilded-Age fascination with rustic décor; they speak to the anxious nostalgia of a generation caught between the rural, agricultural past, and the urban, industrial future. This study examines one particularly ornate tree stone from rural Western New York State documented by the Smithsonian American Art Museum in 1994. Commissioned by Hiram and Maria Chapman in 1885 while they were still alive, the four-piece Chapman memorial was realized by the firm of Ferdinand O. Cross, a skilled stone carver who came to specialize in mass-marketed rustic creations exported from Indiana's Limestone Belt. While challenging the regional traditionality of the tree stone motif, the story of the Chapman monument reinforces the association of these grave markers with anti-modern values. Lending support for this interpretation is a rich assemblage of archival materials that afford a unique glimpse into the Chapmans' sensibilities as commissioners of the project. In addition to preserving their proudest legacies as individuals, the distinctive components of their memorial enshrine the values they both cherished as pioneers of the frontier who grew old in a world more impersonal and ephemeral than they wished to remember.
Penitente Moradas: A Vestige of the Nuevomexicano Cultural Landscape
Jeffrey Smith, Department of Geography, Kansas State University
Abstract: For over 400 years, generations of Nuevomexicanos (a.k.a. Hispanos) have left a nearly indelible imprint on the cultural landscape. In communities throughout the upper Rio Grande region, Hispanos built earthen irrigation ditches, community churches, and moradas (chapels) for Los Hermanos Penitentes, pious laymen who provide religious and social support to their communities. By the late 1800s, nearly every Hispano-founded community in the upper Rio Grande region had its own morada. The Penitente morada is a product of community cooperation and no vernacular building on the landscape has held greater meaning to the local culture. Today, Hispanos have largely abandoned these adobe structures, and the buildings are succumbing to forces of erosion. Those that remain, however, embody rich cultural messages. This article documents the changing distribution of Penitente moradas in south-central Colorado and discusses how differing culture groups have signified this important artifact on the cultural landscape.
Sheltering Time: The Containment of Everyday Life in Nuclear-Shelter Film Narratives
Andrea Vesentini, School of Arts, Birkbeck, University of London
Abstract: This article explores how filmic portrayals of fallout shelters from the 1950s to the present defined them as a space of social and cultural containment through the theme of time perception and management. Films envisioned the space as a retreat from upsetting historical processes, in which everyday life could be brought to a standstill and preserved from complete annihilation. By examining a wide variety of films, ranging from Hollywood productions to governmental releases, this article shows how the nuclear shelter entered American material culture as a moving image, in which narratives of containment of time and space – or rather, containment through time and space – offered the temporary illusion of escaping the passing of time in an everlasting present, safe from man's own destructive power.