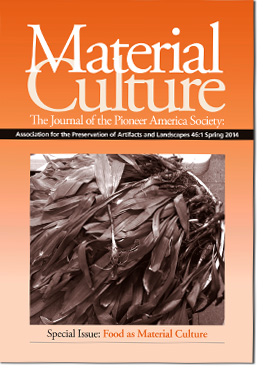 Material Culture is printed two times a year for members of PAS:APAL. You may download a PDF of the table of contents of the current issue here.
Spring 2014 Material Culture is a special issue: Food as Material Culture. (More special issues are planned; see "From the Editor" at left.) This issue includes:
Pungent Provisions: The Ramp and Appalachian Identity
Bridgette Rivers, Robert Oliver, and Lynn Resler, Department of Geography, Virginia Tech
Abstract: Over the past ten years, the ramp, a traditional Appalachian food, has entered elite culinary circles outside its native culinary region of Appalachia. Ramps (Allium tricoccum) are wild leeks traditionally foraged for in the spring, and are known for their pungent smell. This unique vegetable is traditionally celebrated in Appalachia through dinners and festivals that are widely attended by members of the community and more recently, outsiders. Similarly, outside the region, the ramp has been featured on fine dining menus and has been sold in farmer's markets and grocery stores for the first time across the country. This study investigates both the growing popularity of the ramp, as well as the continuing symbolic power of the ramp in representing Appalachian culture. Qualitative interviews with experts in the ramp industry, patrons of ramp festivals, and those individuals spatially removed from the Appalachian region but who remain connected to ramp cultivation and celebrations were conducted. Participant observation at ramp festivals and analysis of questions posted on a ramp-based Facebook page corroborate our interview data set. This research demonstrates the important role that the ramp plays in helping root, develop, and maintain an Appalachian sense of place.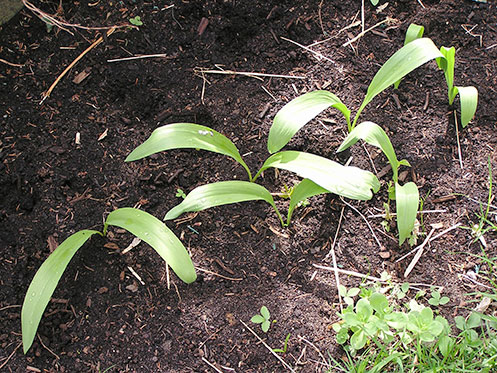 Ramps are a bulbous perennial plant. In the spring, two sword-like leaves emerge from the underground bulb, eventually measuring approximately twelve inches in height before dying off in late spring.
'I Know I'm Home When I Have One:' The Cultural Significance of the Garbage Plate of Rochester, NY
Emily Fekete, Department of Geography, University of Kansas
Abstract: Located on Lake Ontario in western New York State, Rochester as a city is home to many local food traditions. One of these is the comfort food known as the Garbage Plate. A dish that is pervasive within the areas surrounding Rochester, the Garbage Plate has taken on social and cultural meanings in the everyday lives of Rochesterians. The dish can be seen both as a hybrid of Rochester foods as well as a hybrid of local culture. This paper looks at the history of the dish and its symbolic nature to the Rochester area. Attitudes towards the food from the perspective of Rochesterians were gathered from responses to an online survey as well as detailed online interview responses. Through these individual responses, it can be seen that Garbage Plates are not simply something to be eaten; rather, they evoke recollections of the past, memories of friends and family, and are associated with feelings of a sense of place.
The Palate of Power:  Americans, Food and the Philippines after the Spanish-American War
By Megan Elias, Department of History, City University of New York
Abstract In 1898, Spain ceded political control of the Philippine Islands to the United States. Although armed resistance by Filipinos did not officially end until 1902, the U.S. began conducting a study of the Islands in 1900 to determine whether they were ready for democratic self-rule and eventually determined that they were not. Food played an important role in Americans' evaluation of the Philippines' modernity and readiness for independence. This article examines the ways in which food was part of what Paul Kramer calls 'fiesta politics,' the displays of civilization that both Filipinos and Americans put on for each other as part of this evaluation process.