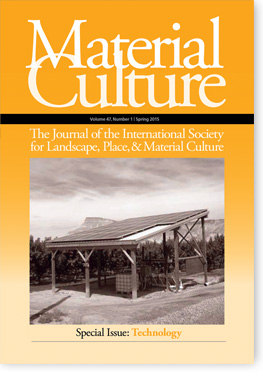 Material Culture is printed two times a year for members of PAS:APAL. You may download a PDF of the table of contents of the current issue here. Spring 2014 Material Culture includes:
Vessels for Recollection — The Canoe Building Renaissance in the Great Lakes
John N. Low, Department of Comparative Studies, Ohio State University – Newark
bstract: Over the last thirty years, members of Indigenous communities in the Great Lakes region of the United States have been involved in a revival of traditional birch bark canoe building. This essay is an outline of the significance and salient features of these grassroots endeavors, an assessment of this movement, and a proposal for understanding such revivals at the intersections of meaning, memory, power, and identity. This article articulates an alternative to models of social behavior, such as revitalization and nativism, by highlighting a contemporary movement in the United States that focuses upon cultural production, the reclaiming of iconic indigenous technology, the strengthening of identity, and perpetuation of community through memory work, while also emphasizing a counter-colonial resistance to assimilation. Exploring the canoe building renaissance in the Great Lakes region, I propose a new understanding of the events and perceptions that motivate Native peoples to reengage and recollect with past cultural practices. The catalyst of such movements is the recognition that turning to past cultural practices is a practical and efficient way to enhance individual and community indigenous identity. The article is an effort to assert the uniqueness of the community's history, culture, and the importance of the past and it is re-collection of both material culture and individual and community identity.
Water-Conveyance Technology and the Preservation of Agriculture in Colorado's Orchard Mesa Irrigation District
Jeffrey M. Widener, University Libraries, University of Oklahoma
Abstract: Agriculture in the American West survives, thrives even, but remains threatened by urbanization. As developers pave over agricultural landscapes in the American West, we are not just losing many beautiful and bucolic scenes, but we are also losing a material culture that is part of America's pioneer heritage. In Colorado's Grand Valley, however, farmers are replacing older irrigation systems with new technologies to preserve their heritage. Using the Orchard Mesa Irrigation District (OMID) as a case study, I find that a component of the survival of working agricultural landscapes in this irrigated region is the sentiment farmers have to sustain their way of life. They have accepted and implemented efficient water conveyance technologies and government programs in order to sustain their landscapes. On OMID, the changing elements of water conveyance technology intersect with modern needs for water conservation and with the preservation of farming heritage in the American West.
Creating Digital Materiality: Third-Wave Feminism, Public Art, and Yarn Bombing
Alla Myzelev, Ph.D., State University of New York at Geneseo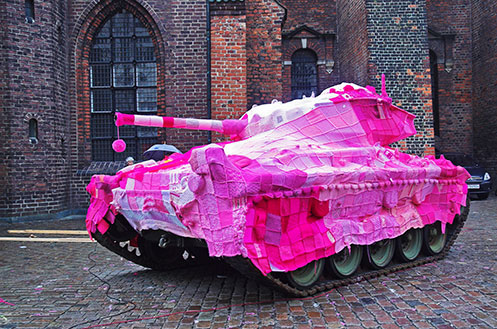 Marianne Jorgensen, Tank Cozy, 2006. Used with permission. See other color images from this colorful article here.
Abstract Projects drawing upon Do-It-Yourself (DIY) culture and its relationship to third-wave feminism and post-feminism have received scant scholarly attention so far. Socially-engaged artists that employ DIY strategies, such as yarn bombing, rely on digital communities of like-minded people, mainly women, to bring attention to socially important issues such as gun control or use of contraceptives. Politic and civic actions involving public textile art projects are often considered explicitly feminist and therefore do not require additional examination, attention, and analysis vis-à-vis feminist ideas. My research looks at the intersections between the digital communities created through practice of DIY, such as www.countercraft.org and various versions of feminism that members of the DIY and digital communities adhere to. It looks at how these communities utilize implicitly or explicitly understood feminisms (plural is intentional) and empowerment while practicing craft techniques that are traditionally considered part of patriarchal society and thus presumably contributing to the disenfranchising of women. In addition, I look at how DIY-related websites, blogs, and discussion groups involve women in the political realm through use of seemingly traditional and apolitical techniques of knitting, sewing, crocheting, etc. Using contemporary feminist scholarship, and scholarship on digital communities, I argue that women use fiber-based materials to mitigate what they perceive to be a radical position of the social protesters. Yarn bombing and other public actions that involve needlework became popular in the early millennium due to the nature of third-wave feminism which aims to both empower women and negotiate femininity as an acceptable social standard.