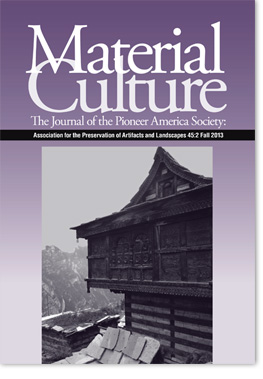 Material Culture is printed two times a year for members of PAS:APAL. You may download a PDF of the table of contents of the current issue here.
The current issue includes:
Unconscious Landscapes: Identifying with a Changing Vernacular in Kinnaur, Himachal Pradesh, India
Melissa M. Belz, PhD, Interdisciplinary and Global Studies Division
Worcester Polytechnic Institute
Abstract: The ancient vernacular houses of Kinnaur district in Himachal Pradesh, India are a vital part of Himalayan material culture and the Kinnauri identity. The vernacular landscape of Kinnaur shows an evolution over time from the ancient vernacular house to what I call the classic vernacular house. The characteristic features of the classic vernacular style became evident over 50 years ago and today's blended landscape reflects the longevity of ancient styles alongside newer adaptations. Interviews exposed that local people overwhelmingly identify with the ancient vernacular elements of house construction. However, due to environmental pressures and desires to modernize, these features are no longer included in new construction. Therefore, a disconnection exists between what the Kinnauras believe represents their culture and the elements that actually distinguish their landscape today. This paper explores this paradox of an invisible vernacular landscape — the unconscious, taken for granted part of daily existence. I propose that modernized landscapes can still be considered "vernacular" and iconic landscape features, and even when abandoned and derelict, still serve the emotional needs of the population.
Legends in the Landscape: Myth as Material Culture at Dartmouth College
Charles H. Wade, Independent Scholar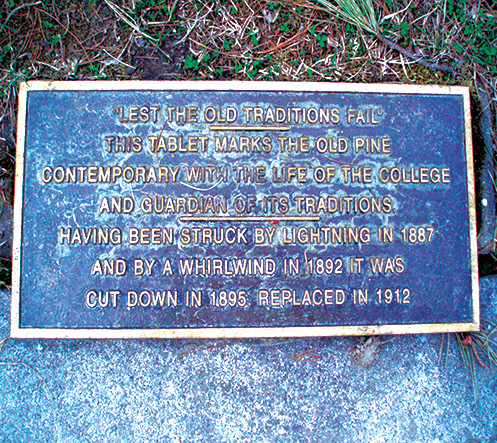 A tablet at the foot of the Old Pine stump. Photo by author.
Abstract: Dartmouth College, a member of the elite Ivy League, was founded in 1769 in Hanover, New Hampshire. Dartmouth is famous for its strong sense of community and tradition. Its traditions arose from the intertwining of history and legend and are often evident in material form in the College's cultural landscape. This paper examines Dartmouth's Old Pine, a purportedly mystical tree from the early days of the College that died in 1895. The preserved stump of the Old Pine subsequently transitioned from a natural feature to a cultural artifact. New traditions grew from the remains of the Old Pine in the form of the Class Day ritual and the erection of Bartlett Tower. The interplay between these artifacts in Dartmouth's landscape contributed to the development of a particular sense of place at the College. Through the years, social changes at Dartmouth generated controversies over class, racism, and exclusion in reference to Class Day, which consequently modified the meanings of the artifacts and rituals traditionally associated with the Old Pine. This paper argues that, despite these changes, old traditions and elements of socioeconomic class remain embodied in Dartmouth's cultural landscape and material culture aids in defining a place identity less evident than the one purported from the College's historical record and folk tradition.
Impressions of Twentieth Century Agricultural Change in Farm Landscapes and Farm Families
Reviews by Brad Alan Bays, b.bays@okstate.edu, Department of Geography, Oklahoma State University, Stillwater, OK, 74078-4073.
[The following is the first paragraph of the essay.] Spatial and temporal distance can distort our views of calamitous forces. For example, some people hunt tornadoes as much for the thrill of the experience as to record data, but anyone who has lost a house in a twister doesn't share their enthusiasm. Neither do combat veterans tend to become military historians. For those who have experienced calamity up close and personal, the memory is never nostalgic. The same can be true of longer, less-perceptible disruptions, like the generational impacts of technological and social change. For those of us who study old buildings, it is a healthy practice to remind ourselves of the human costs of the processes that hurled the things we photograph into obsolescence. Readers of this journal will celebrate Cynthia Falk's Barns of New York: Rural Architecture of the Empire State, but should sober up with Robert L. Switzer's A Family Farm: Life on an Illinois Dairy Farm.
Article Indexes
In addition to book reviews, which are part of every issue, this issue is important because it includes an index of articles and book reviews published in Material Culture and P.A.S.T. in the last ten years (volumes 33-44). The last index appeared in volume 33. The list of publications in these two journals is impressive, and on behalf of Paul Marr, Editor of P.A.S.T. and myself I would like to thank authors and readers alike for their continued interest in and support of these publications.
Here is a sample page from the Material Culture index (shown here at a reduced size):