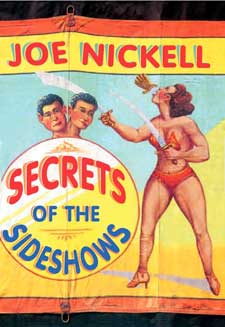 Secrets of the Sideshows
Lexington: University Press of Kentucky, 2005
xxi + 400 pages. Notes and index
$32.95 (cloth), ISBN 0-8131-2358-5
It is very apparent that Joe Nickell loves the sideshow, and in his new book, Secrets of the Sideshows, he does an excellent job of sharing that love with the reading public. Anyone interested in the popular-culture phenomenon of sideshows, circuses, carnivals and magic shows should definitely pick up a copy of this book. The first three chapters give a brief history of the sideshow from the earliest times to the present. Here Nickell briefly discusses early examples of conjuring, touring exhibits and itinerant performances that led to the creation of the genre. He also touches upon the influence of Barnum's American Museum, the Midway Plaisance, medicine shows and "Wild West" shows. While these chapters cover much the same ground as Joe McKennon's multi-volume work, A Pictorial History of the American Carnival, McKennon's books are out-of-print and sometimes hard to come by. It is great to have the information readily available once again in this new volume. Chapter Two is particularly interesting because it deals with the setup of the midway's games and concessions. Nickell reveals the way in which games are sometimes rigged in order to give a little extra "edge" to the house. The discussion is fascinating and details an area of carnival that is often not included in books of this nature.
In Chapter Four, Nickell launches into the heart of his material. Here he begins to describe the various acts that make up a sideshow performance. Nickell divides sideshow acts into three classifications—human oddities, working acts, and illusion shows—and discusses each at length. Chapters Four through Nine detail every kind of human oddity act imaginable, including those that are self-created (tattooed people, pierced people, etc.) and those that are gaffed (faked). Nickell not only relates how these acts functioned within the performance arena, but gives some factual information about some of the people who thus put themselves on display. He allows the reader to see these performers not just as "oddities," but as human beings. For example, Nickell explains some of the physiological causes of extreme thinness suffered by the living skeletons (104), and he takes care to describe the difference between dwarfs (whose body parts are disproportionate to one another) and midgets (who have normal proportions with all parts being equally small). Nickell's physiological explanations and his stories of the offstage lives of these people help the reader to see beyond their commercial value and to get a glimpse of the real lives that take place behind the façade.
Chapter Nine details the working acts that have appeared on sideshow stages throughout America. Working acts are those that feature such things as fire eaters, sword swallowers, glass eaters, blockheads, snake charmers, and knife throwers. Nickell's lively discussion of the history of these feats makes for fascinating reading; and what really makes this section stand out is that Nickell is able to add his own, personal anecdotes because he has performed some of these feats. For example, Nickell is able to provide a firsthand account of the mechanics of fire eating because he is a fire eater, having learned the technique from his friend "Pele the Fire Goddess." The book even contains a series of photographs showing the author eating fire and performing a move in which he "trails" the fire along his arm (217-18).
In Chapter Ten, Nickell turns his attention to the illusion acts. Nickell describes the most popular sideshow illusions and provides information on how they were ballyhooed and presented. Here, readers can learn about the floating lady, the girl who changes into a gorilla and others. While the revelation of magic secrets may upset some of the magicians out there, in his defense, I must note that Nickell does not reveal anything that has not already been explained in numerous books and resources on the internet. Most of the illusions Nickell describes are well-known classics that the public is already familiar with and the explanations are readily available to anyone with the impulse to go looking. Nickell's inclusion of this section really makes this book stand out among sideshow histories because previous tomes have most often concentrated on the human oddities and working acts, but have left out the illusion shows entirely. Chapters Eleven and Twelve conclude Nickell's survey of the acts by examining those that do not readily fall into other categories. These are the animal shows (flea circuses, freak animals, etc.) and curios ("pickled punks," shrunken heads, etc.) By the end of Chapter Twelve, the reader has been introduced to almost every kind of sideshow act imaginable, gaining insight not only about the performances themselves, but also about the inner workings and backstage elements that helped to support each performance.
The most notable thing about this book is Nickell's ability to present the world of sideshow from the inside. Not content to just gather information from archives, books and ephemera, he has actually lived in this world, talking to the people that work the shows and experiencing firsthand what it is like to be a "carny." Nickell has several friends that are sideshow professionals, and he has included interviews and oral histories as an important part of his research. Also, the text is enhanced by numerous photos from the author's own collection (most, I assume, have not been published elsewhere) and these are truly invaluable. Much of the world that Nickell's book chronicles, no longer exists, so it is nice to be able to vicariously experience some of the atmosphere and ambience through these photographs. This book is a wonderful compendium of definitions, illustrations, facts and stories about the sideshow. It brings together a wider array of material than that which has been contained in previous volumes. It won't provide you much in the way of theoretical analysis, but if you're looking for a thorough, well-researched resource on the "nuts and bolts" of carnival and sideshow life, you won't be disappointed.