The International Society for Landscape, Place, & Materials Culture is pleased to announce the recipients of its 2020 Awards:
Fred B. Kniffen Book Award
Cynthia Culver Prescott's Pioneer Mother Monuments: Constructing Cultural Memory is a timely and cogent analysis of pioneer monuments in the American West. Prescott, an historian at the University of North Dakota, studied some two hundred statues, designed from late 19th century to the present, to examine the evolution of pioneer commemoration and its effects on public memory. To commemorate manifest destiny, many municipalities in the West erected similar sunbonnet-clad pioneer mother statues, often protecting one or more children with one arm and holding a Bible or shotgun in the other. Any variance from this iconic trope often faced rejection, as towns used these statues for purposes of public identity and heritage tourism. Prescott delves into gender roles, racial stereotypes, colonialism, and constructs of identity in this thought-provoking analysis. She concludes that these monuments celebrate and enforce white male hegemonic constructs and warrant an open discussion as part of the ongoing debate about Confederate statues.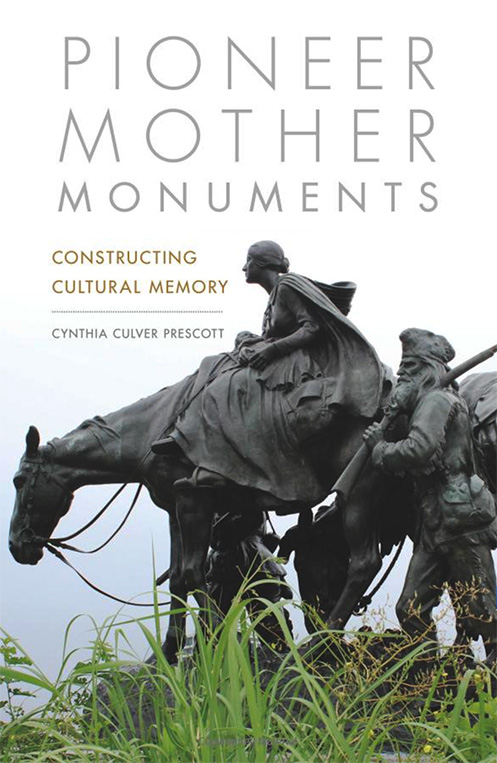 On behalf of the committee, we are pleased to announce that this year's Fred B. Kniffen Book Award is presented to Cynthia Culver Prescott.
Biography: Dr. Prescott's work focuses on gender in the American West. She combines social history and material culture methods to study the intersections of gender, race, social class, and historical memory. Her first book, Gender and Generation on the Far Western Frontier (University of Arizona, 2007), traced changing gender roles and ideology among early white settlers in Oregon between 1845 and 1900. Her latest book, Pioneer Mother Monuments: Constructing Cultural Memory (University of Oklahoma Press, 2019) won the 2020 Gita Chaudhuri Prize. In it, she traces changing portrayals of race, gender and national identity in pioneer monuments erected from 1890 to the present. She is also building a companion website for this book, Pioneer Monuments in the American West, that features interactive maps and timelines, and provides images and information about the 200 monuments included in her study. Supported by a Whiting Foundation Public Engagement Seed Grant, she is using the GIS-enabled app Clio to create detailed historical entries and walking tours of 200 sites in the West, with an emphasis on controversial public monuments and shifting representations of race and gender. Prescott is also interested in quilting, particularly examining quilts as a reflection of women's work roles and social class status.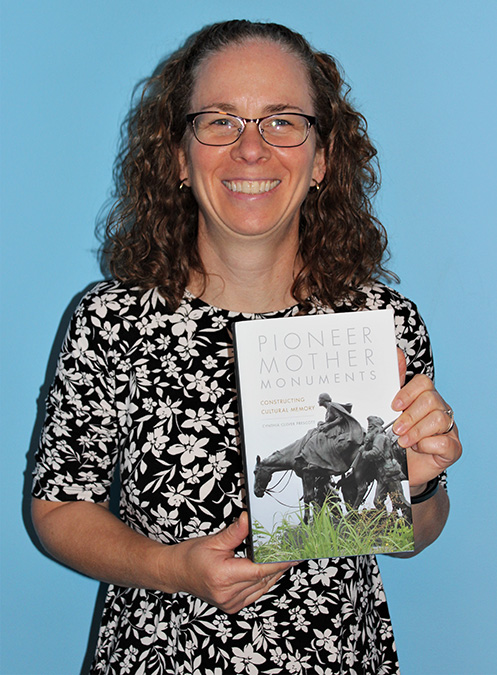 A member of the University of North Dakota History Department since 2007, Dr. Prescott serves as the Director of Undergraduate Studies in History. She teaches several courses that are closely related to her research interests, including American women and gender, the American West, cultural history, and material culture methodology, as well as the introductory United States Since 1877 survey course. While her academic training is in social history, she has also worked in several areas of public history: museum curatorship, collections management, archival and rare book cataloging, and historic preservation. She is also active in UND's Women and Gender Studies program and is the faculty adviser for the History Club, the UND chapters of Phi Alpha Theta history honor society chapter and InterVarsity Christian Fellowship. Beyond UND, she is active in several international historical societies and serves as an Associate Fellow at the International Quilt Study Center in Lincoln, Nebraska.
Allen G. Noble Book Award
Avant-Garde in the Cornfields, edited by Ben Nicholson and Michelangelo Sabatino, is an interesting collection of essays focusing on one Midwestern town: New Harmony, Indiana. The collection of essays in this book present an in-depth study of New Harmony, Indiana, a unique town in the American Midwest renowned as the site of two successive Utopian settlements during the nineteenth century: the Harmonists and the Owenites. An important reappraisal of postwar American architecture from a rural perspective, it provides provocative ideas about how history is interpreted through design and historic preservation.
On behalf of the committee, we are pleased to announce that this year's Allen G. Noble Book Award is presented to Ben Nicholson and Michelangelo Sabatino.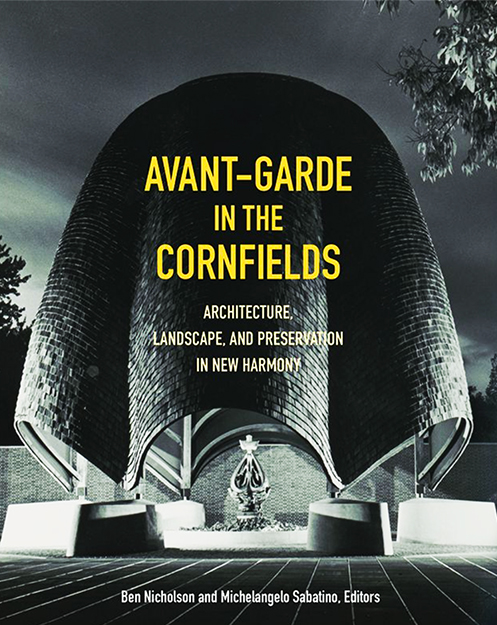 Biographies: Ben Nicholson lives and works from his base in New Harmony, Indiana. Sometimes known as a 'performative architect' with polymathic interests that engage art, design, scholarship and popular culture, with subjects ranging from primitive geometry, labyrinths, Michelangelo, guns, gardens and political satire. A constant theme is addressing taboo subjects outside the accepted and normative in design. Currently he is completing a book about the 1818 flintlock Collier revolver.
Michelangelo Sabatino trained as an architect, preservationist, and historian. As an educator, academic administrator, and award-winning scholar, Sabatino has shaped architectural discourse and practice in the Americas and beyond. Between 2017–19 Professor Sabatino served as interim dean for the College of Architecture of IIT and held the Rowe Family Endowed Dean Chair. He currently directs the PhD program in architecture and is the inaugural John Vinci Distinguished Research Fellow. Sabatino lectures widely about modern and contemporary architecture, participates in juries, and has served on a number of editorial and not-for-profit organization boards in Europe and the Americas ranging from the Society of Architectural Historians to Docomomo International / US. Throughout his career Sabatino has focused new light on larger patterns of design discourse and production during the nineteenth and twentieth centuries: his book Pride in Modesty: Modernist Architecture and the Vernacular Tradition in Italy (2011) was translated into Italian and won critical acclaim and multiple awards, including the Society of Architectural Historians' Alice Davis Hitchcock Award. His recent books include Canada: Modern Architectures in History (with Rhodri Windsor Liscombe, 2016), Avant-Garde in the Cornfields: Architecture, Landscape, and Preservation in New Harmony (with Ben Nicholson, 2019), Making Houston Modern: The Life and Architecture of Howard Barnstone (with Barrie Scardino Bradley and Stephen Fox, 2020) and Modern in the Middle: Chicago Houses 1929–1975 (with Susan Benjamin, 2020).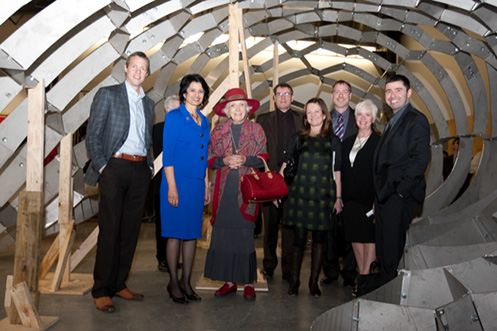 Book editors Ben Nicholson (4th from left) and Michelangelo Sabatino (8th from left) standing in The New Harmony Grotto, Houston (2008). Jane Owen, the New Harmony patroness (3rd from left) stands with Grotto makers Joe Meppelink (1st on left) and Andrew Vranas (6th from left).