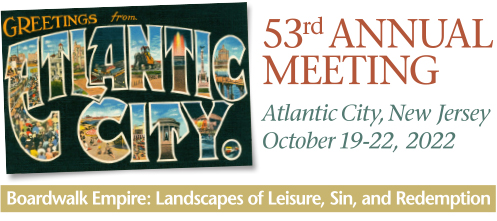 Conference Registration
Pre-Registration deadline: October 7, 2022
Registration after October 7, 2022, and on-site registration are $135 for Society members and $185 for non-members; $100 for a spouse/significant other of a member; $70 for student members; and $95 for student nonmembers.
Refunds of 75% will be issued if requested by September 1, 2022. After this date, refunds will be issued only if there is enough time to cancel meals.
Make inquiries to: Wayne Brew, wbrew@mc3.edu
About the tours: On Thursday, October 20, there will be a bus tour exploring the Victorian Architecture of Cape May and the Mid-Century Modern (affectionately called Doo-Wop) architecture of Wildwood. Other planned stops include the John Wanamaker Cabins and Lucy the Elephant. On Saturday, October 22, the bus tour will head north through parts of the Pine Barrens on the way to Ocean Grove and Asbury Park.
Note: In the form below, "Conference Only" registration includes the Thursday evening reception, the Friday paper sessions, the business luncheon, and break snacks.
Important: You may pay using PayPal, which allows you to use your credit card or your bank account. Our form will automatically total your charges, but you must enter that total in the final field below, before selecting the PayPal button. Do not include a "$" symbol, though — PayPal won't function if you do.