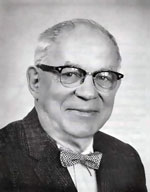 The Society seeks to encourage and recognize books by authors regarding material culture in North America. Named for the renowned geographer, Fred Kniffen, the prize in his honor is granted annually for the best book in the field published within two years of the award.
The Awards Committee
J. Cory Jensen, Chair | coryjensen@utah.gov
Stephanie Roper | maphistorian@aol.com
Jeffery C. Wanser | wanserjc@hiram.edu
Selection
A three-member committee of the International Society for Landscape, Place, and Material Culture reviews candidate-books and recommends them to the full board of the Society. The board authorizes the prize and prizewinner each year. Prizewinners are invited to the annual meeting and receive:
1. A year's free membership to ISLPMC
2. A free entry ticket to the awards banquet
3. A Book Award Certificate
The committee also recommends the Allen G. Noble Book Prize.
Contact
The committee is open to suggestions for the books to be considered. Contact committee chair J. Cory Jensen.
Recipients of the Fred Kniffen Book Awards
2022: Sarah Fayen Scarlett for Company Suburbs: Architecture, Power, and the Transformation of Michigan's Mining Frontier (University of Tennessee Press 2021)
2021: Amy D. Finstein for Modern Mobility Aloft: Elevated Highways, Architecture, and Urban Change in Pre-Interstate America (Temple University Press 2020)
2020: Cynthia Culver Prescott for her book Pioneer Mother Monuments: Constructing Cultural Memory (University of Oklahoma Press)
2019: Zachary Violette for his book The Decorated Tenement: How Immigrant Builders and Architects Transformed the Slum in the Gilded Age (University of the Minnesota Press)
2018: Martin Brückner for his book The Social Life of Maps in America, 1750-1860 (University of North Carolina Press)
2017: Jeanne Kisacky, for her book, Rise of the Modern Hospital: An Architectural History of Health and Healing, 1870-1940, University of Pittsburgh Press
2016: Jason Weems, for his book, Barnstorming the Prairies: How Aerial Vision Shaped the Midwest, University of Minnesota Press, 2015.
2015: Thomas Carter. Building Zion: The Material World of Mormon Settlement. University of Minnesota Press, 2015.
2014: Margaret Supplee Smith. American Ski Resort: Architecture, Style, Experience. Norman: University of Oklahoma Press, 2013.
2013: James R. Shortridge. Kansas City & How It Grew: 1822-2011. Lawrence, Kansas: University Press of Kansas, 2012.
2012: Peter Benes (Dublin Seminar for New England Folklife in affiliation with Historic Deerfield, Inc., in Deerfield, Massachusetts) — Meetinghouses of Early New England.
2011: David Jaffee (Bard Graduate Center: Decorative Arts, Design History, & Material Culture, New York, New York) — A New Nation of Goods: The Material Culture of Early America
2010: Charles S. Aiken (University of Tennessee) — William Faulkner and the Southern Landscape
2009: Ann Norton Greene (University of Pennsylvania) — Horses at Work: Harnessing Power in Industrial America
2008: Ann Smart Martin (University of Wisconsin, Madison) — Buying into the World of Goods: Early Consumers in Back Country Virginia
David Robertson (State University of New York, Geneseo) — Hard as the Rock Itself: Place and Identity in the American Mining Town
2007: Maurie D. McInnis (University of Virginia) — The Politics of Taste in Antebellum Charleston
2006: Craig E. Colten — An Unnatural Metropolis: Wresting New Orleans from Nature
2005: Edward Matthews, III — Matthews: The Historic Adventures of a Pioneer Family
2004: John Rehder — Appalachain Folkways
2003: John M. Vlach — Barn
Greg Huber — The New World Dutch Barn: The Evolution, Forms, Structure of a Disappearing Icon
2002: No Award Given
2001: Jan Albers — Hands on the Landscape: A History of the Vermont Landscape
Arnold R. Alanen and Robert Z. Melnick — Preserving Cultural Landscapes in America
2000: Ethan Carr — Wilderness by Design
1999: Gabrielle Lanier & Bernard Herman — Everyday Architecture of the Mid-Atlantic
1998: Thomas Visser — Field Guide to New England Barns and Farm Buildings
Thomas Carter, ed. — Images of the American Land: Vernacular Architecture in the Western United States
1997: Terry Jordan, Jon Kilipinen, Fritz Gritzner — The Mountain West
Allen Noble & Hugh Wilhelm, eds. — Barns of the Midwest
1996: Terry Jordan — The New Mexico Cattle Frontier
Marion Nelson, ed. — Material Culture & People's Art among the Norwegians in North America
1995: Bob Ensminger — The Pennsylvania Barn
Allen Noble — To Build in a New Land
1994: No Award Given
1993: No Award Given
1992: Catherine Bishir — North Carolina Architecture
Thomas Carter & Bernard L. Herman eds. — Perspectives in Vernacular Architecture IV
1991: No Award Given
1990: Catherine Bishir, Charlotte Brown, Carl Lounsbury, Ernest Wood, Terry G. Jordan, Matti Kaups, Rosemary Joyce, Henry Glassie, Roger Kennedy, Norman Pounds for best authored books
Nezar Alsayyad and Jean-Paul Bourdier eds. — Dwellings, Settlements, and Tradition: Cross-Cultural Perspective
1989: Best edited book winners:
Nezar Al-Sayyed and Jean-Paul Bourdier
Carol F. Jopling
Puerto Rican Houses in Sociohistorical Perspective
Robert Blair St. George
Material Life in America, 1600-1860