Material Culture is printed two times a year for members of PAS:APAL. It is abstracted and indexed in: JSTOR, ProQuest, History and Life, Historical Abstracts, GeoAbstracts, and the MLA International Bibliography. You may download a PDF of the table of contents of the current issue here. Fall 2017 Material Culture includes: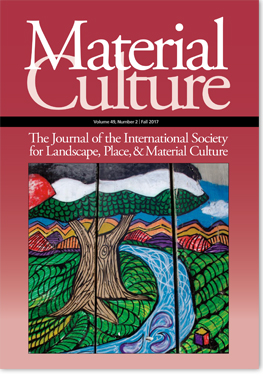 Painting Emotions: The West Bank Separation Wall as an Evocative Object and Graffiti as a Meaning-Making Process
By Rasha Sansur, Independent Scholar
Abstract: More than a decade has passed since the construction of the West Bank Separation Wall in Palestine. The Wall is still under construction and has physically segregated the Palestinian population into many disconnected enclaves and discontinuous communities, severely limiting their rights to thrive and affecting basic human rights, such as access to water, housing, and health care. This article contextualizes the Wall as an evocative object for the Palestinian population, especially with regard to how it evokes memories and feelings, and how graffiti adds meaning to the Wall. Qualitative research in the form of in-depth interviews with 23 Palestinians showcases how they internalize the meaning of the wall in their daily lives, viewing it as a negative evocative object, one that brings back memories of an older connected landscape, a happier social life, and freedom of movement. Finally, the article explores how graffiti becomes a meaning-making device to add further meaning to the Wall.
The Construction of an Elite Identity: A Landscape History of Dartmouth Hall
By Charles H. Wade, Fulton County Government Center, Atlanta, GA
Abstract: As a member of the Ivy League and as one of the nine Colonial Colleges, Dartmouth College maintains a strong local, regional, and national presence. This is evident is in Dartmouth's cultural landscape, particularly the College's most important and enduring icon, the historically and architecturally significant Dartmouth Hall. "Old Dartmouth," as it is also known, is the site of much of the College's social and cultural history, and it remains a domineering force in Dartmouth's landscape and institutional memory. The strong emotional response to rebuild Dartmouth Hall, following fires in 1904 and 1935, prompted an intense sequence in the College's history to "preserve" an important landmark that continues to influence its contemporary landscape and place identity. This paper examines the significance of Old Dartmouth to the College. Through a landscape history and analysis, I submit that Dartmouth Hall signifies much more than being an old, Colonial-style academic building; rather, it is an artifact symbolizing class, power, and exclusivity. I argue that, against the backdrop of a tumultuous period in New England's social history affecting the region's socioeconomic dynamics, the reconstruction of Dartmouth Hall was the catalyst to the construction of a new identity for Dartmouth College as an elite institution as it transitioned from a remote, liberal arts college to a member of the powerful Ivy League.
Of a People of a Place: Reframing the Meaning(s) and Implications of Prehistoric Wisconsin Effigy Mounds
By Michael P. Guéno, Department of Philosophy and Religious Studies, University of Wisconsin
Abstract: Effigy mounds are artifacts of a prehistoric Native American religious movement that assisted regional negotiations of social-cultural change and the emergence of a new cultural identity. The ritual of effigy mound construction disseminated among initially distinct, culturally related communities alongside associated religious elements and widespread social disruptions. These factors facilitated the transformation of local religions and cultures towards a more cohesive and inclusive collective identity. The effigy mound religious movement incorporated shared cultural traits and extrinsic religious elements to address the mutual and particular needs of diverse peoples, enabling greater social unity while maintaining religious heterogeneity and producing variation in mound compound elements. This research demonstrates that identifying effigy mounds as material manifestations of a larger, cultural nativity movement provides structure to historical narratives of Late Woodland effigy mound culture and fosters recognition of the heterogeneity of original mound interpretations to better illuminate the lives of the indigenous communities.