Material Culture is printed two times a year for members of PAS:APAL. It is abstracted and indexed in: JSTOR, ProQuest, History and Life, Historical Abstracts, GeoAbstracts, and the MLA International Bibliography. You may download a PDF of the table of contents of the current issue here. Spring 2017 Material Culture includes: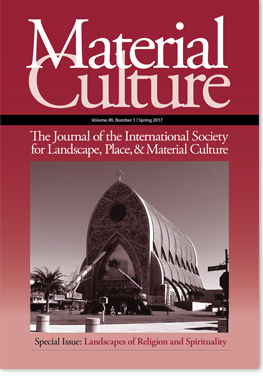 At Play in the Gate of Heaven: Methodist Material Discourses of Leisure and the Picturesque at Round Lake, New York
Samuel Avery-Quinn, University College, Appalachian State University
Abstract: In 1868, Methodist revivalists established the camp meeting village of Round Lake, New York, 14 miles from the popular resort of Saratoga Springs. The venture was a respectable resort catering to upwardly mobile, mostly urban Methodists seeking a summer retreat from the industrial city without the morally questionable entertainments of secular resorts. The Round Lake landscape of cottage homes, picturesque grounds, and leisure, framed by religious education and revival services, borrowed from and stood in contrast with the leisure culture of nearby Saratoga Springs. This article explores the material discourses of landscape design and cottage life that shaped Round Lake. Through landscape, these Methodists not only materialized strategies responding to the challenges of popular Victorian leisure culture, but found ways to reconcile their embourgeoisement with their religious heritage.
Ave Maria, FL: A Mixed Methods Material Culture Analysis
Brad Huff, Department of History and Geography, Columbus State University
Abstract: One of many ways people encode cultural values in their landscapes is through the spatial configuration of the material culture. This article focuses on the encoding of cultural meaning and value through spatial analysis of the impress of conservative Catholicism within Ave Maria, FL, using a Geographic Information System (GIS). This is a complement to more traditional material culture analyses, enabling a more nuanced and robust understanding of the cultural meanings and values encoded in landscapes. The study explores how the spatial relationships of collections of objects in a landscape provide vital clues to the cultural identity of the residents. It also identifies some of the advantages to a mixed methods research approach that incorporates GIS-based spatial analysis.
The Evolution of a Small Midwestern Cemetery: Using GIS to Explore Cultural Landscapes
Joshua Pritsolas and Gillian Acheson, Department of Geography, Southern Illinois University, Edwardsville
Abstract: This paper examines the changing landscape of a small Midwestern cemetery in a semi-rural town in southwestern Illinois. The spatiotemporal evolution of St. John's Cemetery in Maryville, Illinois, is considered in relation to economic, cultural, and local forces. Few studies have utilized Geographic Information Systems (GIS) to assist in analyzing the cemetery landscape. Gravemarker location was recorded in a GIS with other associated attributes of the occupants and the cemetery. The GIS was subsequently used to evaluate spatial patterns and change over time within St. John's. Gravestone morphology was examined in relation to Richard Francaviglia's (1971) study of Oregon cemeteries. Few studies consider graveyards in the Midwest; it is unknown what similarities Midwestern cemeteries share with graveyards in other regions of the United States. The results provide evidence of similarities in gravestone morphology, temporal evolution, and spatial movement between this Midwestern cemetery landscape and those in other parts of the country. However, subtle differences in cultural values of this small rural community remain and thus, resulted in this cemetery landscape maintaining its own unique identity.
Anglican Church Architecture and Religious Identity in Early Colonial South Carolina
By Kimberly Pyszka, Department of Sociology, Anthropology, and Geography, Auburn University at Montgomery
Abstract: As a form of material culture, church architecture is often used to reflect religious identity, doctrine, and beliefs. This paper examines the architecture of the 1707 St. Paul's Parish Church, located outside of Charleston, South Carolina. Although the church has not stood for hundreds of years, through archaeological excavations, geophysical testing, historical documents, and a comparison to contemporary Anglican churches, much knowledge has been gained about its visible appearance. This paper provides an interpretation of the overall appearance of St. Paul's Parish Church. Additionally, discussion focuses on how South Carolina's Anglican leaders used church architecture to express the social and political goals of the Anglican Church and the South Carolina colony, as well as the religious background and ideology of parishioners.