Material Culture Culture is printed two times a year for members of PAS:APAL. It is abstracted and indexed in: JSTOR, ProQuest, History and Life, Historical Abstracts, GeoAbstracts, and the MLA International Bibliography. You may download a PDF of the table of contents of the current issue here. The Spring 2020 issue of Material Culture includes: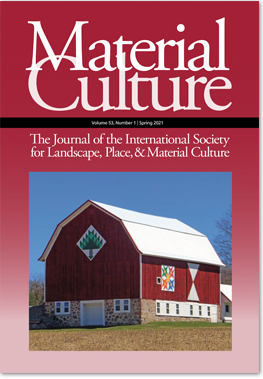 Barn Quilts of Wisconsin: A Shawano County Case Study
By Heike C. Alberts and John A. Cross, Department of Geography, University of Wisconsin – Oshkosh
Abstract: Barn quilts are large pieces of plywood (usually eight by eight feet) that are painted to look like a quilt block and hung on a barn or other building. The first barn quilt was hung in Ohio in 2001. Now several thousand can be found throughout the United States. This article examines barn quilts in Shawano County, "Wisconsin's Barn Quilt Capital." Based on a survey of barn quilt owners, we explore the reasons why people decided to hang barn quilts on their buildings, the meanings of the designs they chose, and whether they were inspired by quilting or earlier forms of barn decorations such as hex signs. We argue that while barn quilts are clearly inspired by earlier forms of barn decorations and quilting, they have increasingly diverged from their origins and could be considered a new form of rural art.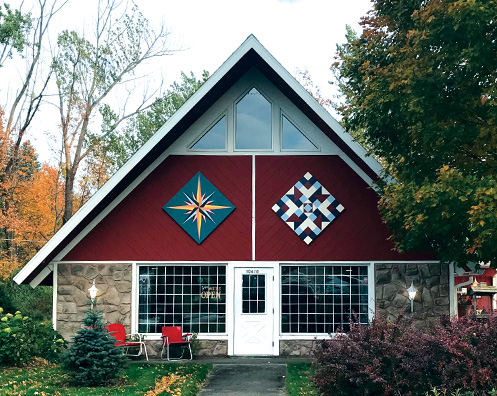 Two smaller barn quilts on a restaurant in Door County, Wisconsin. Photo by Alyssa Liebenow.
Contemporary Craft Geographies: The Row by Row Experience and Representing Place through Quilting Design
By Julie Cidell, Department of Geography and GIS, University of Illinois
Abstract: As a form of craft, quilts have existed for centuries comprised of a top layer with pieced, embroidered, or appliqued materials (or a combination), a middle layer of batting or wadding, and a backing. Quilt patterns have become more diverse in the last forty years, moving away from traditional quilt blocks repeated across the quilt's surface to all-over designs or detailed scenes from material appliqued or fused to the surface. Previous research on the geographical distribution of quiltmaking has found variations in materials, patterns, and the process of quilting itself. This paper uses a new data source – a series of patterns designed by local quilt shops – to explore how contemporary quilting reflects place identity.
"Take My Card": Analyzing the Business Cards of Nigerian Entrepreneurs in Guangzhou
By Wendy Thompson Taiwo, Department of African American Studies, San José State University
Abstract: In the last three decades, Guangdong Province has become an important international hub for West Africans seeking to create economic opportunities in the export of Chinese-produced goods to Africa. Nigerians, among the first to settle in Guangzhou, a city in southern China known for its manufacturing sector, in the 1990s, played a key role in establishing trading communities that remain popular among itinerant African commercial traders today. However, as tightening immigration restrictions, increased local and state surveillance, rising visa renewal costs, and everyday discrimination raise the stakes of doing business in China, Nigerian entrepreneurs in Guangzhou find themselves having to operate even more strategically in the marketplace by leveraging a number of resources in their favor. One of these resources is the ability to promote oneself as a professional proprietor of a legitimate businesses, an image that relies heavily on the design and production of business cards which are essential multitools in the business practices of Nigerian entrepreneurs. This article analyzes the function, imagery, and meaning of business cards collected from Nigerian entrepreneurs in Guangzhou, China between 2009 and 2014. Through a close reading of language, clip art, religious iconography, and partnerships with Chinese associates on business cards, new understanding is gained about the relationship between the localized and culturally specific design knowledge and choices of Nigerian entrepreneurs and their ability to solicit clients, advertise goods and services, project aspirations, and protect one's success in a volatile marketplace that is largely informal, somewhat unregulated, and always precarious.
America's Pioneer Freeways
By Joe Weber, Department of Geography, University of Alabama
Abstract: A number of different types of controlled-access roads were developed in the early 20th century to meet the challenges brought on by increasing automobile traffic. These road types included parkways, turnpikes, elevated roads, and highways with access limitations, called "freeways," allowed by state laws because they were open to all vehicle traffic. In the postwar era the Interstate Highway System mass-produced the last type, with the name "freeway" becoming a generic label for high-speed automobile highways. This paper examines the geography of the nation's pioneering controlled access highways and how they have changed. Controlled access highways in the immediate postwar era were largely short, isolated routes under local ownership; many of these routes remain in use as freeways, though incorporated into larger networks and state control. Freeways are among the largest and most visible artifacts of the automobile age, and today many have been recognized as historic sites.
"Selling" Nebraska through Archer King's Exaggeration Postcards
By H. Jason Combs, Department of Geography, University of Nebraska-Kearney
Abstract: In the first few decades of the early 1900s, the United States was postcard crazy; thousands of cards were exchanged daily. A distinct type, now referred to as exaggeration postcards, used photographic manipulation to create unique visual images. This, in turn, often presented places in a positive light and helped to articulate a sense of regional identity. Archer King was one artist who created exaggerated images to promote and sell Nebraska to a larger audience. King's postcards from the early 1900s were intentional and featured giant garden produce and oversized livestock along with, of course, larger-than-life ears of corn. His work gave Nebraska credibility, showing signs of progress and productivity with linkages to markets outside of the Great Plains. This study begins by evaluating trade cards and the history of postcards, then transitions to focus on the importance of King's exaggeration cards used to market and sell place.